SafeSeal Quattro® sterilization pouches Flat with adhesive tape
Medicom® SafeSeal® Quattro Flat Sterilization Pouches, MD Class I
Ref. 903



Dental




Medical




Industry




Hygiene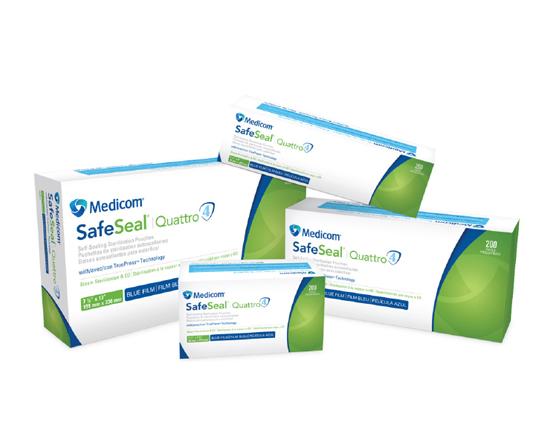 FEATURES AND BENEFITS
TECHNICAL SPECIFICATIONS
PRODUCT INFORMATION
Features and benefits
For use as packing material for medical devices in sterilization by steam, ethylene oxide gas in healthcare establishments
Non-tearing, thick multi-layer film made of a combination of polypropylene and polyethylene.
Transparent, blue tinted film facilitates both easy instrument viewing and identification of puncture or tears in the film
Clean, fibre-free separation of paper and film ensures safe presentation of sterile products.
Pouches have a wide adhesive sealing tape which easily and securely seals the pouch providing a reliable seal until pouch is opened.
Permit to keep the sterilization conditions of the inner product after sterilization : up to 1 year.
Technical specifications
Material :

Paper, polypropylene & polyethylene

Colors :

Blue

Model :

Flat SelfSeal

Clothing manufacture :

Heat sealing

Size / Dimensions :

70 x 229 mm/89 x 133 mm/89 x 229 mm/57 x 102 mm/133 x 254 mm/191 x 330 mm/254 x 356 mm/305 x 432 mm

Process indicator :

Internal/External indicators

Sterilization method :

Steam and ethylene oxide (SO)
Product information
Product features
| Brand | Article | Size |
| --- | --- | --- |
| MEDICOM | 88000 | 70 x 229 mm |
| MEDICOM | 88005 | 89 x 133 mm |
| MEDICOM | 88010 | 89 x 229 mm |
| MEDICOM | 88015 | 57 x 102 mm |
| MEDICOM | 88025 | 133 x 254 mm |
| MEDICOM | 88030 | 191 x 330 mm |
| MEDICOM | 88035 | 254 x 356 mm |
| MEDICOM | 88040 | 305 x 432 mm |
Packaging Features
| Inner case | Packaging |
| --- | --- |
| Dispenser box | 6x200 |
| Dispenser box | 5x200 |
| Dispenser box | 6x200 |
| Dispenser box | 10x200 |
| Dispenser box | 10x200 |
| Dispenser box | 5x200 |
| Dispenser box | 5x200 |
| Dispenser box | 5x200 |