April 19, 2021
Kolmi - New visual identity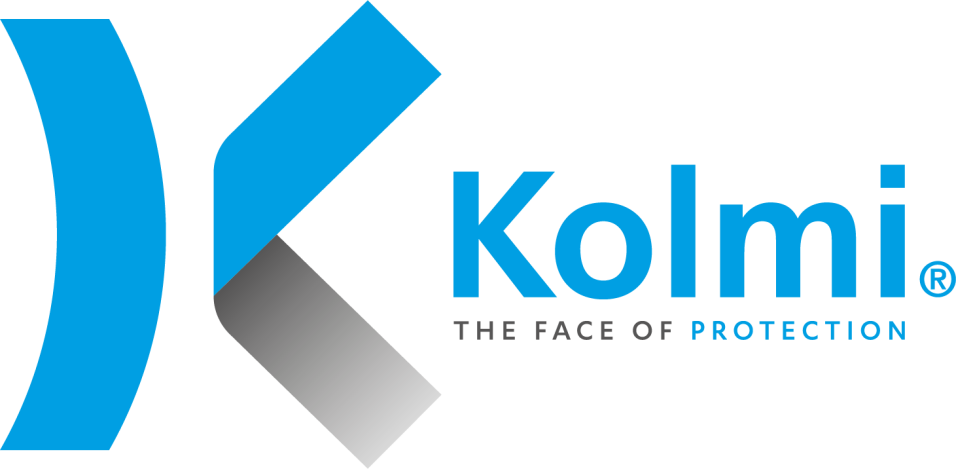 PRESS RELEASE - April 2021
KOLMI® unmasks itself and asserts its new identity
In line with its new strategy, KOLMI® transforms its visual identity.
After being brought to light in 2020 in the fight against the COVID-19 pandemic, KOLMI® is sporting a new signature and has developed a set of codes to convey its missions and development policy in support of protection.
Performance, trust and vitality, these are the missions to which KOLMI® is committed and which perpetuate its relationship with its ecosystem, colleagues, clients, suppliers, partners, and supporters.
A brand signature and circular graphics, two significant changes
KOLMI The Face of Protection® asserts the position of KOLMI® as a known and recognised manufacturer primarily of single-use protective masks and respiratory tract protection, but also of protective wear for the whole body: headwear, clothing, footwear, personal hygiene and medical care.
The brand signature also illustrates the commitment of KOLMI® to reassure the consumer in their search for not only the best protection on the market, but also transparency in regard to what they buy, notably with a large proportion of our production taking place in Europe (mostly France) and the UK.
The circular graphics highlight the compassion that KOLMI® shows towards users of its products.
These graphics also signify the timelessness by which KOLMI® abides. For over 50 years now, KOLMI® has been designing and manufacturing protective products notably for the respiratory tract and is constantly searching for solutions for the future. Consistency and rigour have always taken pride of place over opportunism and haste, which is exactly what makes KOLMI® a timeless brand in the world of single-use protective items.
A colour scheme that reflects the values of KOLMI®
Turquoise for open-mindedness, a darker blue for well-being and shades of grey for excellence and expertise.
These are the values that KOLMI® commits to carrying and defending, with conviction and pride.
KOLMI® confirms its position as leader in the single-use market
In 1972, KOLMI® designed the first ever single-use mask to exist in Europe.
Then in 1975, the revolutionary first non-woven mask, that provided improved protection and increased comfort compared with a paper mask.
Over 50 years of experience and still the same concern: to protect and prevent risks
KOLMI® has always risen to the challenge when it comes to tackling a health crisis - Ebola, SARS 2016, COVID-19...
Even if such crises do tend to lead to some product modifications, at KOLMI® we have always had this capacity to be forward-thinking and anticipate the risks of the future.
That is why KOLMI® masks are not the result of a pandemic crisis, but rather were designed to tackle future pandemics.
Over and above this mission, that we hope will not become a common occurance, KOLMI® has an underlying concern, which is to protect those whose respiratory tract is at risk in their line of duty, and prevent risk for those who work in a highly contaminated or highly toxic environment.
Cutting-edge expertise
 KOLMI® masks are designed to meet two important goals: Protection and Comfort.
So how can you design a mask to act as a high-filtration barrier and at the same time allow the wearer to breathe comfortably? This is the role of our teams: to find the right materials and formulation that enable our products to fulfil these two characteristics.
Furthermore, the ultimate challenge is to have highly technical products that meet the standards and regulations in place, as well as future ones.
The result is a permanent balancing act between protection, comfort and normative and regulatory requirements.
Despite all this, thanks to its forward-thinking approach, KOLMI®  is already thinking about protective needs for the future, as well as finding solutions to existing issues, in order to constantly improve its response to people's need for protection, and enable continuous improvement in the area of risk prevention.
For further information
Benoît Guillet – European Marketing Director
About Kolmi Hopen Group
The Kolmi Hopen Group has been a key player in the paper processing industry since 1921. We produce single-use products to fully equip professionals from a wide variety of sectors, such as medical, industrial and hygiene. Kolmi Hopen is the market leader for single-use medical masks and respiratory protection, through its brand Op Air Pro Oxygen, Op Air Pro, Op Air, Op R. In 2008, the company became part of the Canadian group Medicom, world leader in single-use solutions for the dental sector.
For further information, you can visit our website kolmi-hopen.com or our Linkedin profile.